This might sound stupid but being good requires little thinking because you simply do good things as it is expected while being bad or evil means you have to think a little bit outside the box and do things that aren't expected.
Don't know if that makes sense. So, forgive me if it doesn't.
It's also common for the heroes in most, admittedly mediocre stories to just react without thinking and inadvertantly cause more damage than the bad guys. It's rare that the narritive will acknowledge this because, well, odds are that the writer themselves doesn't see the problem.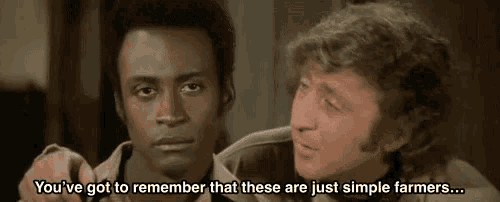 The Witcher 3 did a fantastic job at displaying how good intentions/actions could lead to a worse fate for everyone. Made you consider your decisions a lot more carefully, though I have some disagreements with how they displayed the results of this (in some situations, not all).
Awwww I was gonna say "because good is dumb" but you beat me to it!

Love Spaceballs
Heroes are dumb because they are limited by their roles.
It's one of the things I love about regression stories: villains who figure out the rules to the game and become nice people for their survival give you a peek I to the mind of people who are more complex than their role.
I agree, and if you forgive me for using Overlord for an example again, Ains is a extremely pragmatic sort of evil, one you don't often see because well, good guys can be really dumb and villains who only do evil when it benefits them are harder to write as antagonists than villains who are evil for the evulz, like Dr. Evil.
I hate term hero and the term villain because realistically, everyone is a bit of both, but yes some are more hero than villain and vice versa. But no one selflessly sacrifices things without wanting something back in some way.
Like sacrifing their free time to take care of their children
The hero wants the girl.
The villain wants her too.
The villain wants the prize.
So does the hero.
The hero wants to be remembered when he dies, and so does the villain. Their end goals are the same but they just go different ways about it.
People went to feel morally superior and good about themselves when they write these kinda stories so they usually just let the hero win.
Bold of you to assume that "heroes" are good, most of them are just murderhobos who would kill anyone who doesn't agree with them. Because that's what heroes really do

Well they are still dumb!
Agreed

Random thought. Sometimes evil wins because the villains are ex-goodies with either too much experience (jaded / disillusioned / now a risk to management, not an asset), or they developed or maintained incompatible / extreme Rules of Engagement (any means to an end). The 'novice' goodies don't stand a chance against the 'veteran' villains.