A little about
Indian Dressing Culture!
Some types of traditional dresses
DIFFERENT TYPES OF TRADITIONAL DRESSES IN INDIA, AND SOME OF THEIR SUBTYPES AND ORIGINS.
A LEHENGA / GHAGRA IS A TRADITIONAL DRESS ORIGINATING FROM THE NORTHERN PARTS OF THE COUNTRY THAT GOT ITS MOST SIGNIFICANT PUSH DURING THE MUGHAL RULE. IT IS,FOR THAT REASON, ASSOCIATED WITH MUSLIMS IN A HISTORICAL CONTEXT. HOWEVER, THAT IS NO LONGER TRUE AS IT IS A VERY COMMON DRESS AMONG THE YOUNG GENERATIONS. IT IS A THREE-PIECE DRESS CONSISTING OF A SKIRT (CALLED LEHENGA), WHICH IS THE MOST IMPORTANT PART OF THE DRESS, BLOUSE AND CHOLI (IN HINDI) OR ODHNI (IN MARATHI).
BRIDAL LEHENGA:
CASUAL LEHENGA:
A PUNJABI DRESS IS JUST THAT - A DRESS ORIGINATING FROM PUNJAB. BECAUSE OF ITS ORIGIN, IT IS ASSOCIATED WITH SIKH CULTURE, THOUGH IT IS NOW A POPULAR HOUSEHOLD DRESS FOR WOMEN, THOUGH NOT USUALLY WORN AT VERY FORMAL OR VERY FUNCTIONAL EVENTS. BUT IT CAN BE, DEPENDING UPON HOW FANCY IT IS. THESE ARE THREE PIECE DRESSES, TOO, BUT INSTEAD OF A SKIRT, WE HAVE PANTS. THE CHOLI FOR THESE ISN'T CALLED CHOLI IN HINDI, IT'S A DUPATTA. ONLY IN CONTEXT OF LEHANGA, THE TERM 'CHOLI' IS USED. THE STYLE OF THE PANTS CAN DIVIDE THIS INTO TWO MORE TYPES. A SALWAR-KAMEEZ HAS PANTS WHICH ARE ESSENTIALLY LEGGINGS WITH PLEATS THAT BEGIN FROM THE ANKLE. THIS CAN BE WORN TO FUNCTIONS, SOMETIMES. PALAZZO PANTS/ PANTS WHICH DON'T MUCH HUG THE SKIN ANYWHERE ARE GENERALLY TERMED AS PALAZZOS. SIMPLY CALLED PUNJABI DRESSES ARE ONES WITH PANTS THAT FLARE IN THE MIDDLE. THESE DISTINCTIONS ARE NOT HARD AND FAST, JUST COMMONLY USED TERMS. A LOT OF THIS MIGHT ALSO BE SUBJECTIVE BASED ON WHAT I HAVE HEARD AND EXPERIENCED FROM THE PEOPLE AROUND ME. THESE TERMS ALSO GET INTERMIXED A LOT. SO A SALWAR AND A NORMAL PUNJABI DRESS MIGHT BE MIXED UP OR SO ON.
SIMPLE PUNJABI DRESS (NOTICE THE SPECIAL FLARE OF THE PANTS):
SALWAR-KAMEEZ (A FANCY VERSION THAT CAN BE WORN TO PARTIES):
FANCY PALAZZO PUNJABI:
AN ANARKALI IS ANOTHER THREE PIECE DRESS STYLE ASSOCIATED WITH MUSLIMS HISTORICALLY, BUT NOW FAVORED BY ALL INDIAN YOUTH. IT CONSISTS OF A FROCK, USUALLY LITTLE LESS THAN ANKLE LENGTH AND A LEGGINGS OR A PALAZZO WORN BELOW IT, AND SOMETIMES AN ODHNI / DHUPATTA, BUT THE ODHNI IS OPTIONAL. THE PALAZZO IS A CONCEPT THAT HAS EVOLVED VERY RECENTLY AND IS NOW A TREND, IN THE CASE OF BOTH ANARKALIS AND PUNJABIS. THIS IS BOTH FUNCTIONAL AND CASUAL, DEPENDING UPON HOW DETAILED THE DESIGN IS, LIKE LEHENGA.
BRIDAL ANARKALI:
FANCY ANARKALI: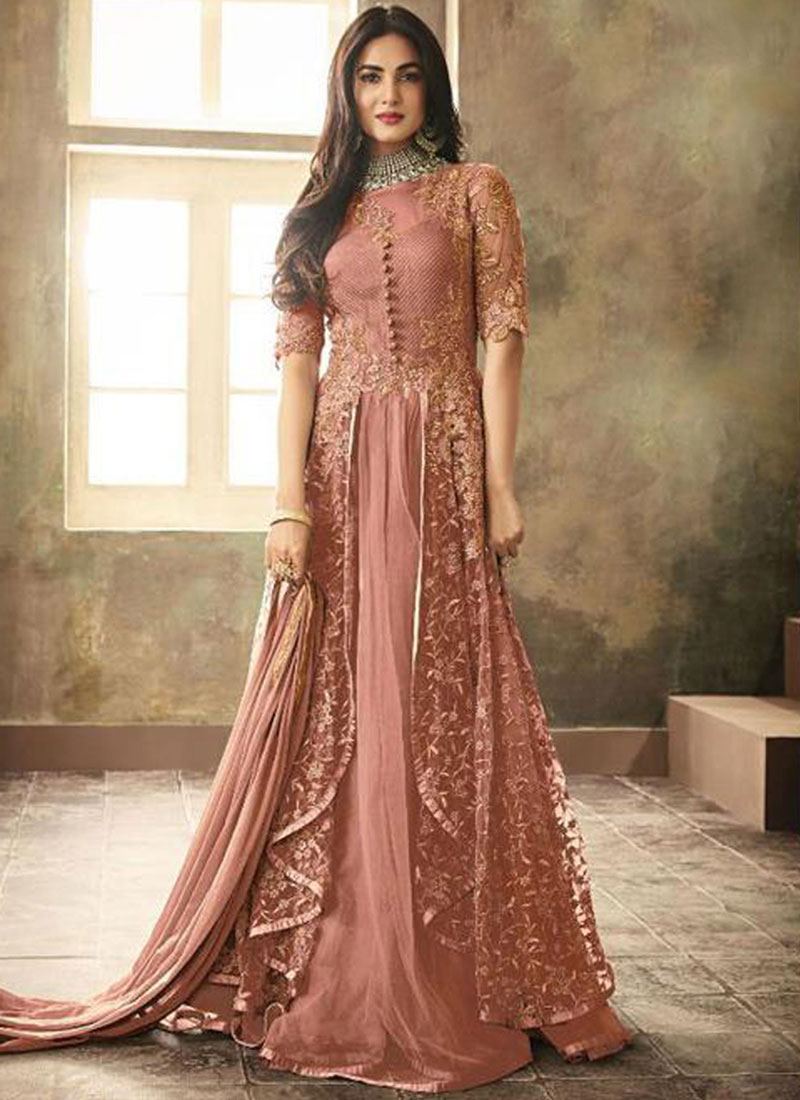 DAILYWEAR ANARKALI:
AFTER READING ALL THIS, YOU ASK, WHAT IS THIS ODHNI / DUPATTA / CHOLI YOU MENTION CONSTANTLY? HERE:
THE LONG CLOTH ON HER HANDS IS CALLED AN ODHNI (MARATHI) OR DUPATTA (HINDI) OR CHOLI (MOSTLY IN CONTEXT OF lehenga)
this is by no means an exhaustive or comprehensive list. I will keep adding to this as and when I get time, but there is a lot more intermingling and sifting culture in traditional dresses and their historical context. New styles are made and trends are set every day. I encourage you to do your research, too!
taglist: @stella_vigo @J.L.O @Manya707
(request to get added to the taglist below)